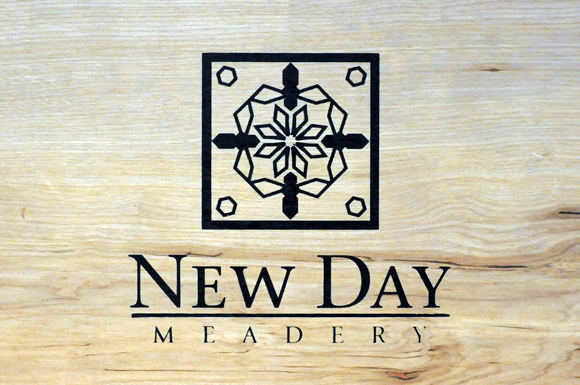 Tonight, Jenni, Barb and I went to New Day Meadery, located in Historic Fountain Square, near downtown Indianapolis. New Day Meadery is the creator of fine, handcrafted honey wines and cider. I've driven by many times, but this was my first opportunity to taste their drinks, which turned out to be absolutely delicious.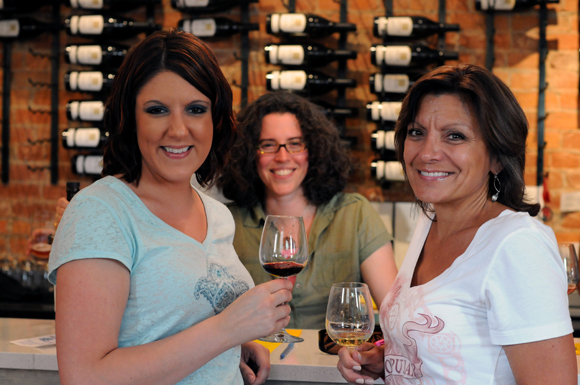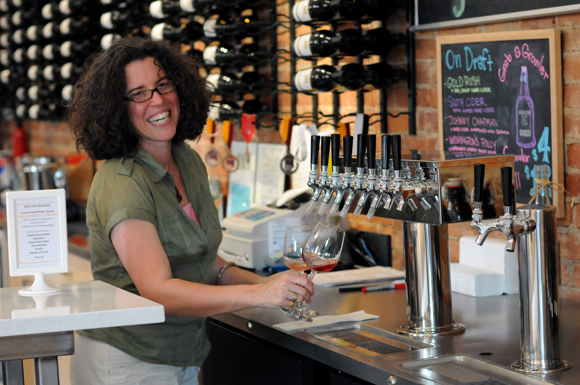 New Day Meadery is a true family owned and operated entrepreneurial endeavor. Above is Tia, one of New Day's owners. She is so nice! Of course, that makes sense since she orchestrates all the marketing and operational matters.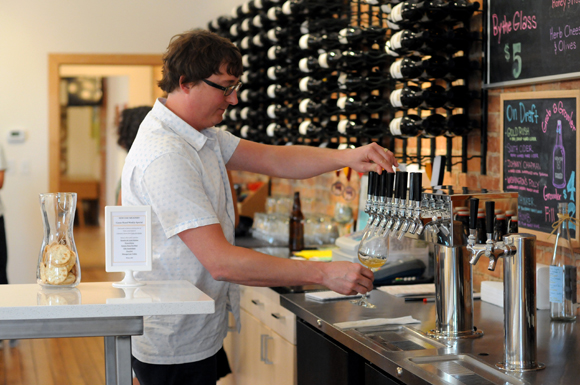 Her husband, Brett, takes great care in crafting all of New Day's meads. Brett and Tia started making mead in 2001 when they moved to Brett's family farm and started keeping bees. They didn't open New Day until 2006… 2006?! This place has been around for 5 years and I only just now tasted their delicious honey concoctions? Tragedy!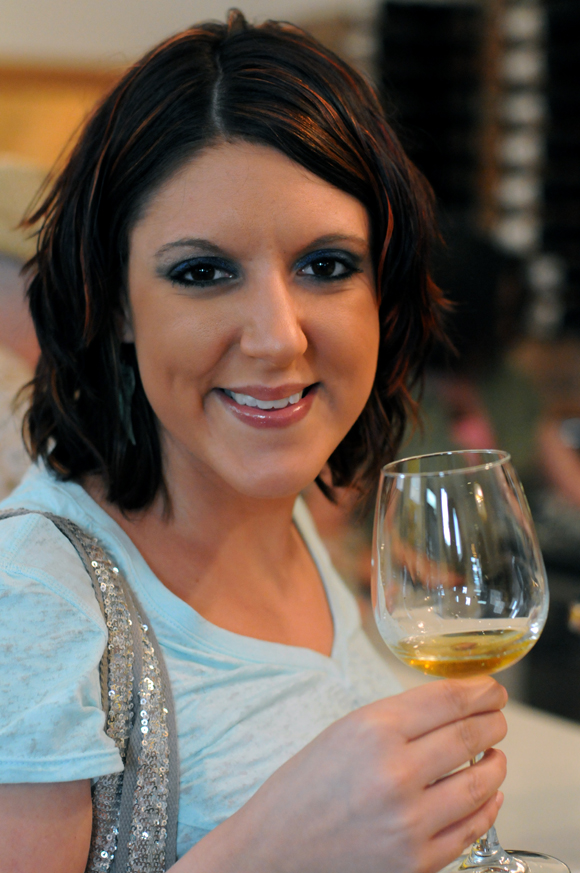 I think Jenni agrees with me. Very tasty.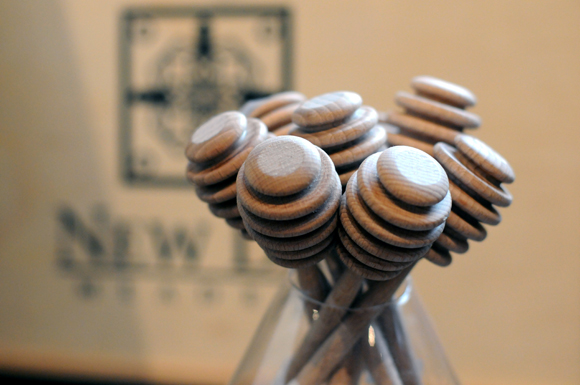 New Day is all about the fresh, local ingredients, especially the honey. Each drink I tasted had some form of honey in it, which I love. My favorite was the South Cider (love the pun!), which is a hard apple cider sweetened with honey, with notes of fresh apple and a creamy finish. Delicious.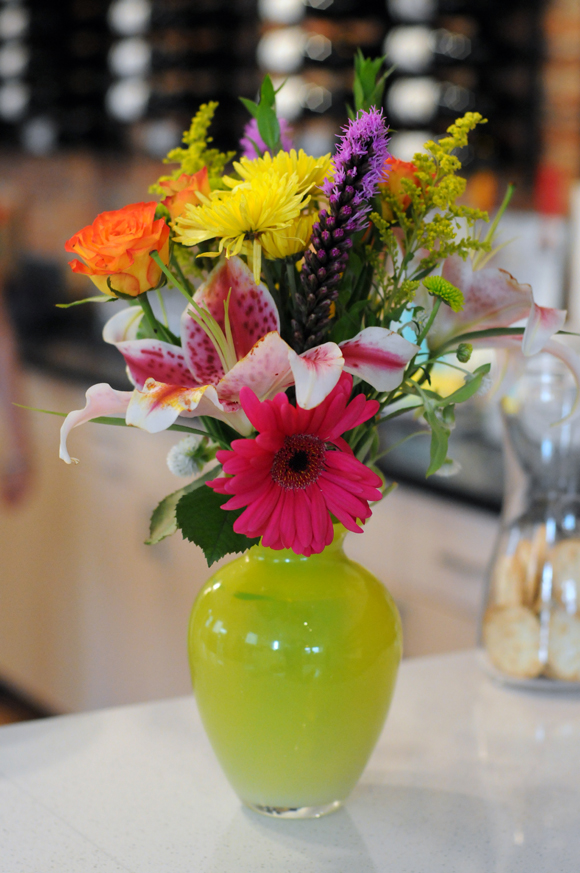 I also loved the decor. These flowers looked nice, so I snapped a quick pic.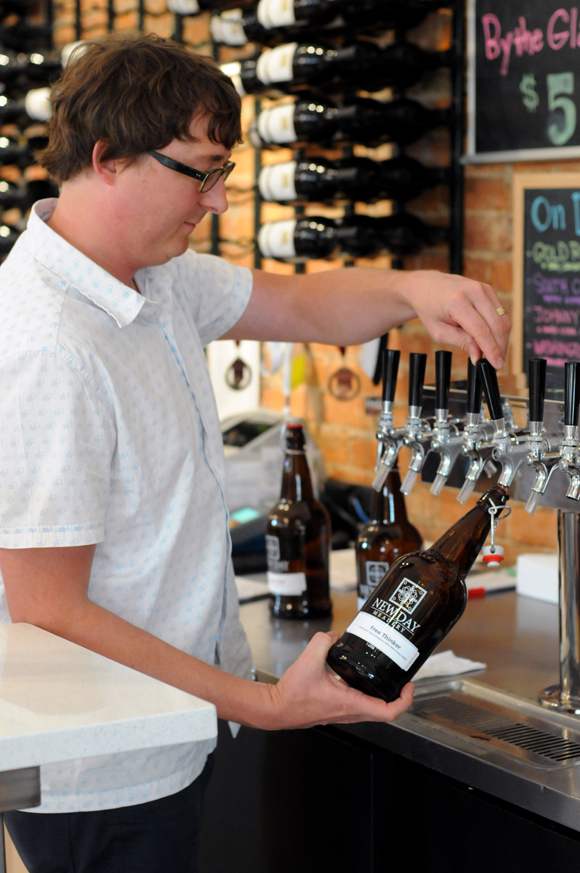 Jenni, Barb and I all tasted six of New Day's offerings for $5 (great deal!). Afterwards, we bought some growlers of our favorites. Growlers are $4 for the bottle and $12 to fill. I got some South Cider, and Jenni got some Free Thinker, a carbonated honey blueberry wine.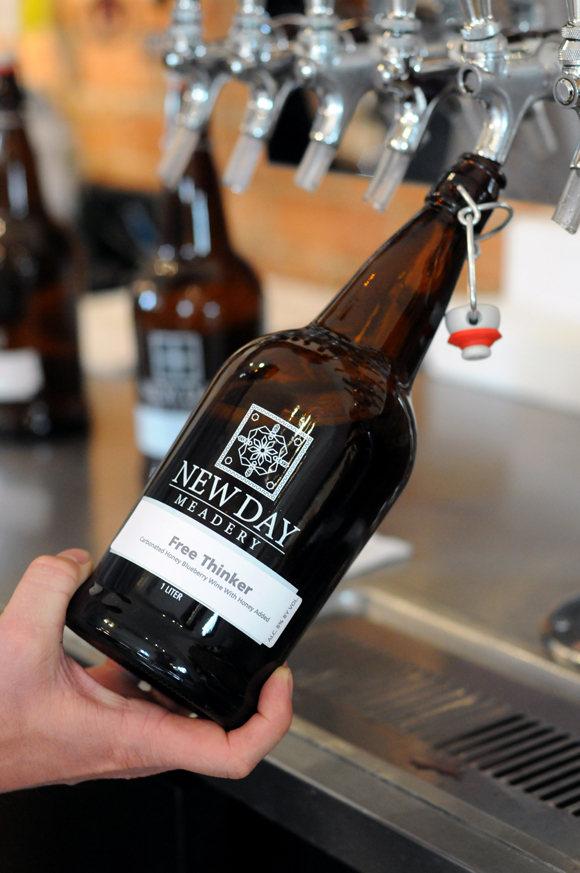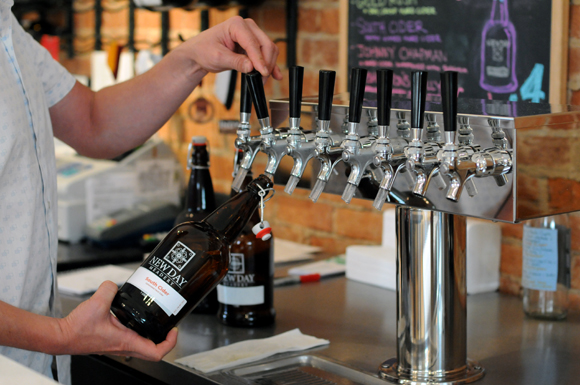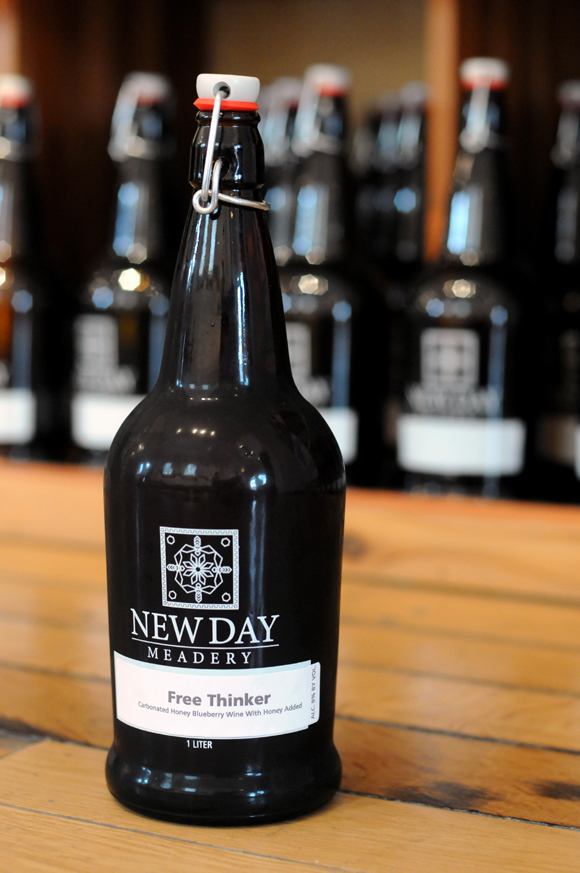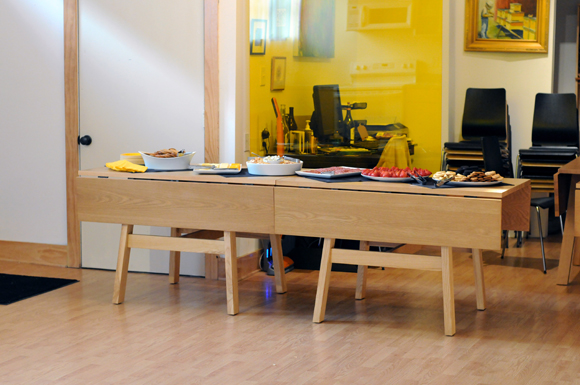 We were also very much in luck, because tonight is the First Friday of the month, which apparently is a monthly event at New Day. Score! In addition to the delicious cider and wine, there was also a nice little snack stand set up in the back.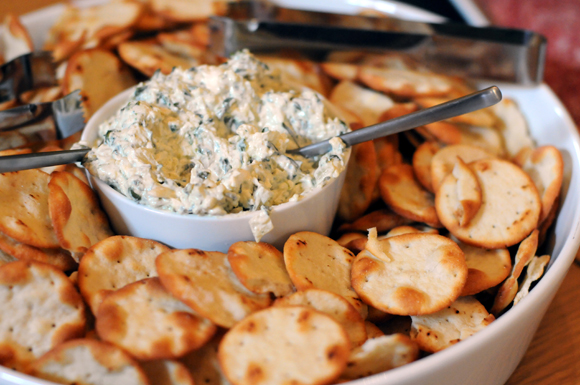 Chips and dip!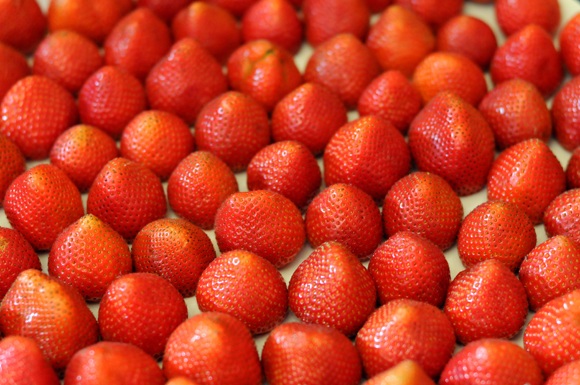 Strawberries!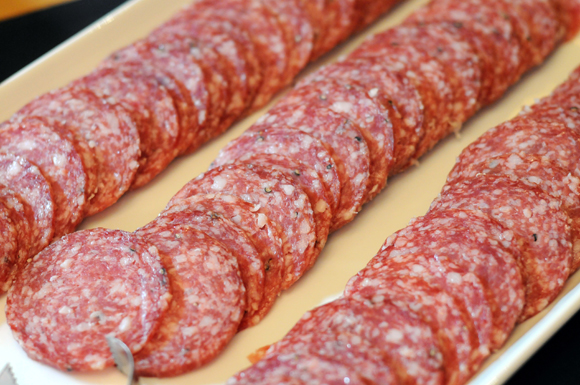 Meat!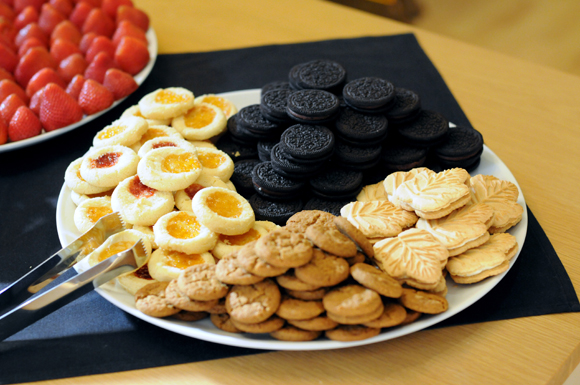 COOKIES!!!!!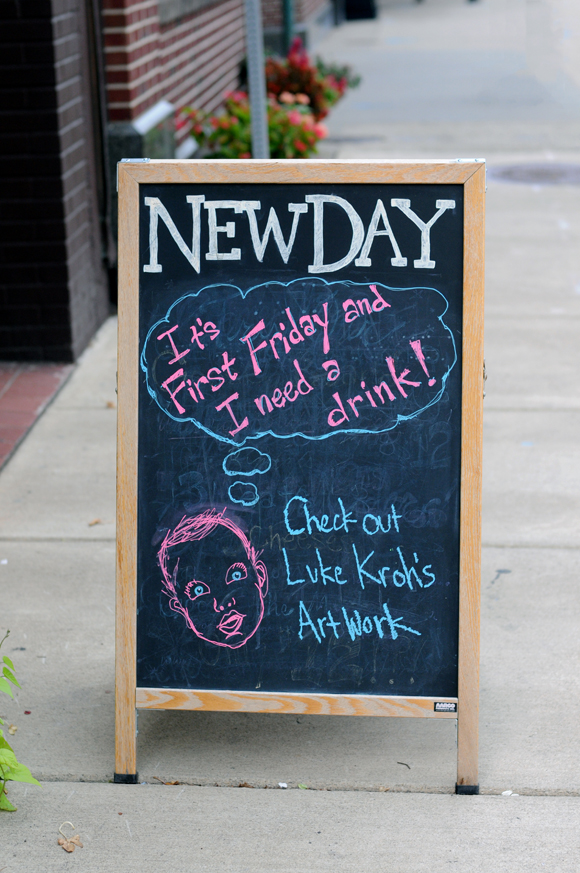 This particular First Friday was in honor of local artist (and New Day assistant wine maker), Luke Kroh. His artwork is all over New Day's walls this month. Luke's work is a spectacle of iconoclastic imagery set in vibrant colors that will hit you hard and make you want to take a piece or two home. This was one of my favorite pieces: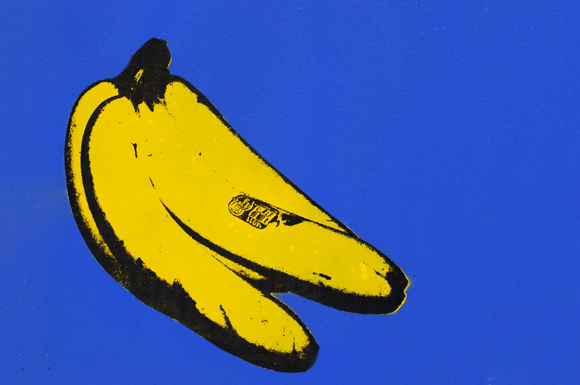 Pretty cool, eh? I'd love to show you more, but you'll just have to drop by New Day and check out his work yourself (not to mention pick up some delicious honey mead).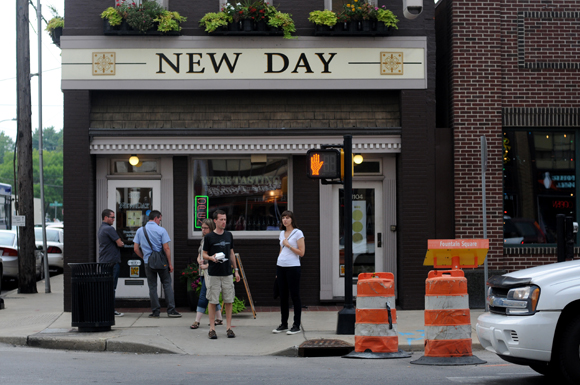 Located in the heart of Fountain Square on the corner of Prospect and Shelby, New Day Meadery is waiting for you to drop by, blogstalkers. I'm glad I did, and you will be too! Their use of fresh, locally grown fruit and honey forces them to keep their quantities small, but it's that same reverence for quality over quantity that makes their mead so highly prized.
-Adam